The company
The German company is specialized in special synthetic ball bearing manufacture, remarkably suitable for oxidative and corrosive environments.
HAKU is available to manufacture special ball bearing under specific customer request.
Synthetic Bearing
Plastic ball bearing is specifically useful when acids, solutions, corrosive substances in general and water can corrode a normal steel ball bearing.
Great chemical stability of plastic ball bearing allows a wide range of uses.
This kind of bearings are particularly suitable when watertight steel ball bearing can be damaged, increasing working risks.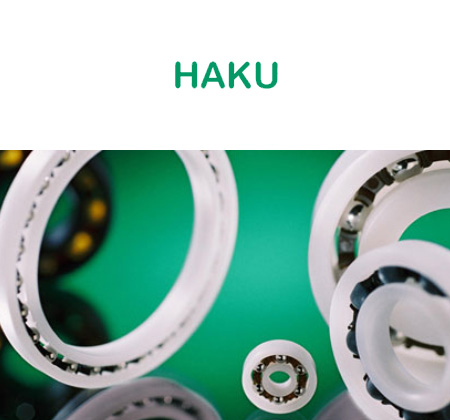 Fields of application
Film Industry
Photographic Industry
Medical and Pharmaceutical Industry
Chemical Industry
Electroplating
Material handling and transportation
Windows and revolving doors
Rolling shutters and blinds
Textile Industry
Food & Beverage Industry
Electrical installations
Household appliances
Toy industry
Advantages
Corrosion resistance, no need for maintenance and lubrication, chemical stability, good electrical insulation characteristics, silent operation, very low weight.
Working temperature
HAKU ball bearings can be used at a constant working temperature starting from -30°C up to +100°C.
For short periods of time even from -55°C up to + 140°C.
Resistance to chemical action
Strong organic acids, diluted acids, caustic and alkaline solutions, inorganic saline solutions, aliphatic hydrocarbons, water, sea water, ammonia, aldehydes, ketones, ether, glycols, photographic solutions, alcohol, mineral oils and greases, petrol, diesel fuel, heating oil.
Tolerances
HAKU ball bearings are manufactured with the following dimensional tolerances:
d +- 0,04 mm
D +- 0,03 mm
Materials used
The following are the materials available for our range of plastic bearings:
For Rings (internal and external):
POM – Polyoxymethylene – Acetal resin – Delrin
PE – Polyethylene
PPH – Polypropylene
PETP – Polyethylene terephthalate (PET, PETE, PET-P)
PTFE – Teflon
PA – Nylon
PEEK – Polyetheretherketone
PVDF – Polyvinyldenfluoride
PSU – Polysulfone
For Balls:
Soda-lime glass
Duran glass
1.4401 stainless steel
1.4571 stainless steel
POM
PP
PVC
PEEK
Ceramic
PVDF
For Cages:
You can download HAKU .pdf Catalogues here: