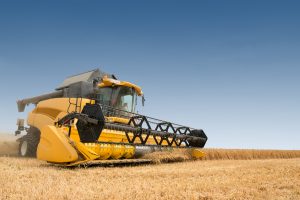 Due to the high level of mechanical stresses and abrasive elements found within the operating environments involved, bearings for farm equipment must operate under particularly harsh conditions.
As concerns the functioning of the various mechanical elements, the operating environment does require that certain conditions be met. Bearings are exposed to a great deal of contaminants: high levels of dust, soil and corrosives—such as solid and liquid fertilizers—come into contact with all mechanical components.
Many farms also clean their equipment with pressure or steam washers, which adds further risk to the proper functioning of bearings and their housing.
To give an idea of the operating conditions to which bearings are subjected in this industry, take for example the case of equipment used in the soil tillage process. Disk harrows, for example, are used in agriculture to prepare the land for sowing as they break up the soil in order to facilitate the placement of the seeds. The individual rotating disks are set at a predetermined angle. Each disk is mounted on a separate arm attached to the frame of the harrow, and the bearings are required to undergo significant axial and radial loads. Under these operating conditions, the bearings are subjected to great mechanical stress and particularly high loads, such as when a disk comes into contact with a rock.
The range of products in the Agricultural Machinery sector includes:
Bearing units and ball bearings for bearing units
Plain bearings and axleboxes
Needle roller bearings
Free wheels
Our products are suited to a wide range of agricultural applications, including: sowing and harvesting machines, disk harrows, tractors, plows, threshers, planters, forage harvesters, and balers.